ATTENZIONE IMPORTANTE!!!!!
IO E TUTTO IL FORUM NON CI ASSUMEREMO ALCUNA RESPONSABILITA' SE LA VOSTRA WII SUBIRA' DANNI GRAVI O LIEVI SEGUENDO QUESTA GUIDA,
OGNIUNO DI VOI OPERA A SUO RISCHIO E PERICOLO
!!!!
Lo scopo della modifica è ottenere il canale HomeBrew Channel, chiamato
HBC, per avviare programmi "homebrew" fatti in casa da sviluppatori
indipendenti e sfruttarla per fare le cose più incredibili che si possono fare con essa  

.
Non è richiesto alcun modchip o gioco per raggiungere lo scopo. La connessione ad internet sulla Wii vi serve soltanto per aggiornare la console alla 4.3E.
per chi ha già la 4.2E o precedente modificata, leggete qui:

Se avete già una console Nintendo Wii 4.2E o precedente 

modificata

e perfettamente funzionante, NON ha alcun senso procedere e modificarla nuovamente, se volete però portare la versione alla 4.3 (magari per poter avviare certi giochi).

1. Scaricate 

questo pacchetto 

e installare tutti wad al suo interno (con il wad manager della app wiimod) così da poter aggiornare il sistema e i canali, mantenendo la modifica installata.

2. Avviate il pymp my Wii e selezionate "

esegui il test e correggi gli errori

", dopo aver scansionato gli Ios vi dovrebbe chiedere di installare alcuni Ios, premete sempre A lasciando le impostazioni da lui fornite (

non cambiate le impostazioni che da lui per ogni Ios

).

3. Dopo aver scaricato e installato gli Ios, provate a scegliere poi "Esegui il test", dopo aver finito se non appaiono messaggi tutto è andato come volevamo.

N.B.: installando un FW viene sostituito quello vecchio, perciò perderete anche il priiloader: scaricate il pacchetto della modifica ma prendete solo l'app Priiloader per poi installarlo nuovamente, ricordatevi di settare le system menu hacks.
Cosa Serve
Oltre alla console Nintendo Wii con FW 4.3, è necessario :
•Una scheda SD di almeno 1GB
•Il
Pacchetto Modifica Wii
 (se compare ADFly.com, aspettate 5 secondi e cliccate "avanti" sulla destra in alto)
INIZIAMO:
-Inserite la 
scheda SD nel computer  e estraete l'archivio che avete scaricato. 
Copiate tutto il contenuto estratto nella scheda SD.
•L'exploit (il programma) che 
installa l'HBC, sfrutta una vulnerabilità contenuta nella versione Wii 
4.3E permettendo così di caricare il file .elf che sarà  l'hackmii installer.
dovete configurare l'exploit LetterBomb
LetterBomb sfrutta 
una vulnerabilità presente nell'applicazione di gestione dei messaggi 
sulla console: il messaggio verrà accettato se proveniente dallo stesso 
MAC Address della console; questo vuol dire che è necessario, per ogni 
console Wii, configurare l'exploit con il MAC Address specifico.
-Andate nel menu Opzioni Wii e poi Impostazioni console Wii.
-Selezionate il menu Internet e poi Informazioni console Wii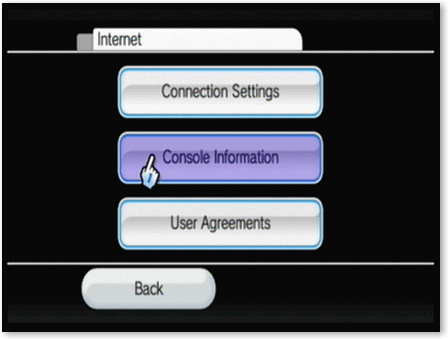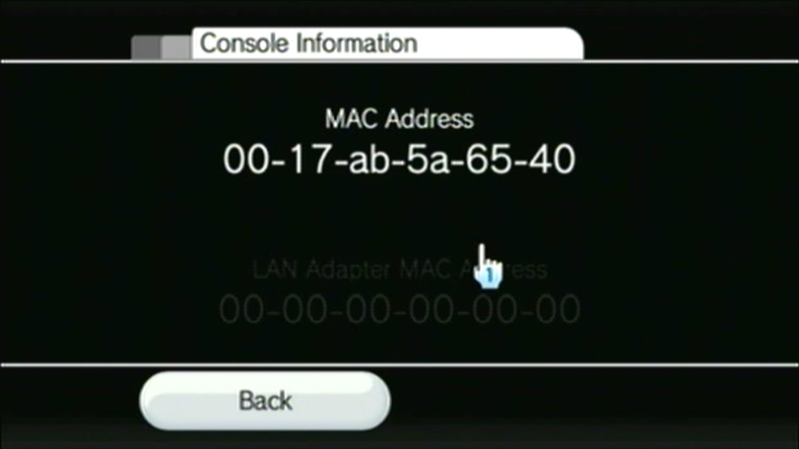 -A questo punto, segnatevi l'indirizzo MAC Wi-Fi specifico della vostra console.
e inserite il MAC Address della console. Selezionate il vostro 4.3 
(E=europa/U=america (USA)/J=giappone/K=korea) come versione del System 
Menu.
-Ripetete le lettere del CAPTCHA e assicuratevi che la 
scritta "bundle the hackmii installer for me" sia su "ok", cliccate su uno
dei due pulsanti "cut the red wire" o "cut the blu wire" (scegliete 
voi) per scaricare la versione dell'exploit configurata per la vostra 
console.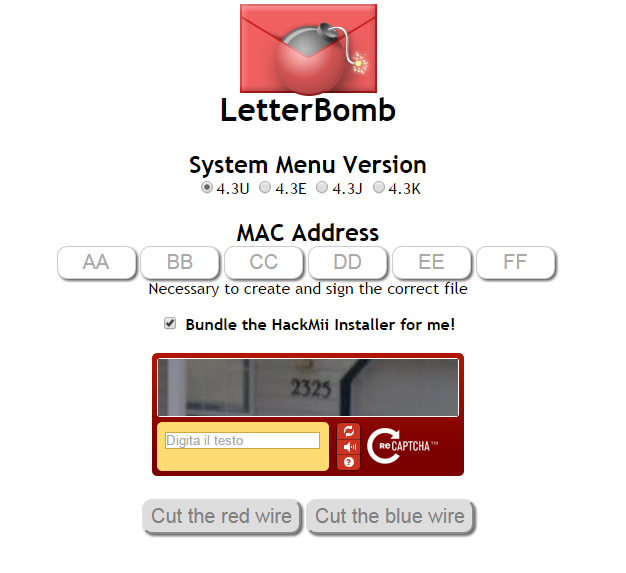 -estrarete il file .zip . dovrebbe comparire una cartella chiamata "private" e il file "boot.elf", metteteli nella directory principale della SD.
-Ora è il momento di installare HBC sulla console. Inserite la scheda SD appena preparata, nella wii.
-Spostatevi nel menu Bacheca Wii
-se non compare nel giorno attuale la busta rossa andate indietro di un giorno 
-premete sulla busta rossa e verrà avviata l'installazione dell'HBC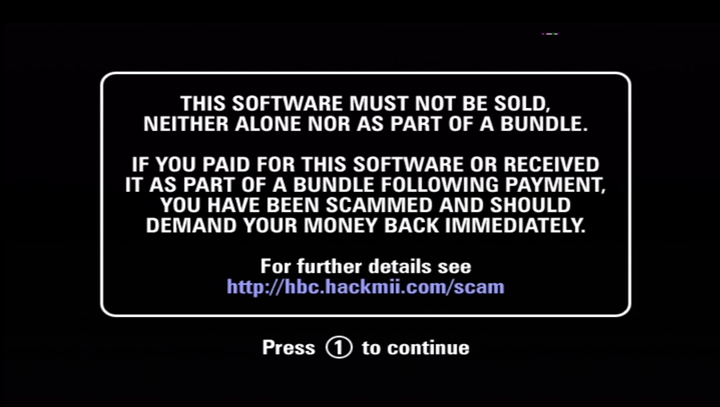 -attendete che venga scritto "press 1 to continue". appena viene scritto, premete 1.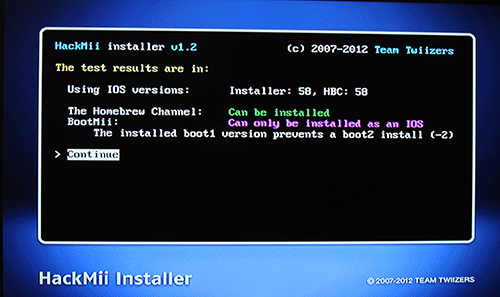 se compare una scritta rossa non preoccupatevi!!

-premete
su "continue" e cliccate su "install the homebrew channel" e poi su 
"YES continue".
attenzione: assicuratevi di non spegnere la wii in tutti i sensi durante l'installazione di software come l'HBC o file .wad, causereste un brick irrecuperabile!
-poi andate su "Boot Mii..." e cliccate su "install Boot Mii as IOS" e 
aspettate che installi. cliccate su "prepare SD card" e aspettate che faccia tutto

 .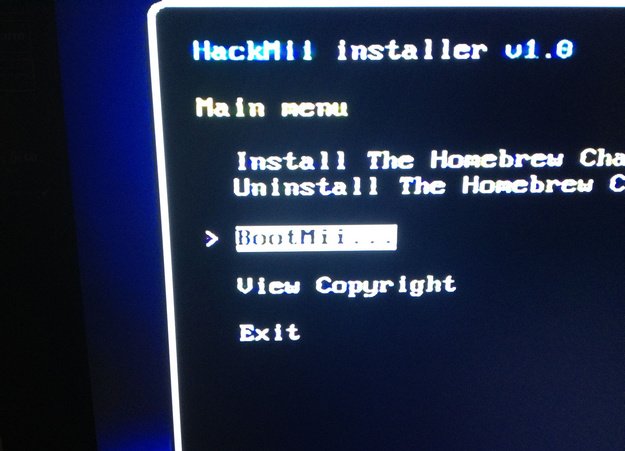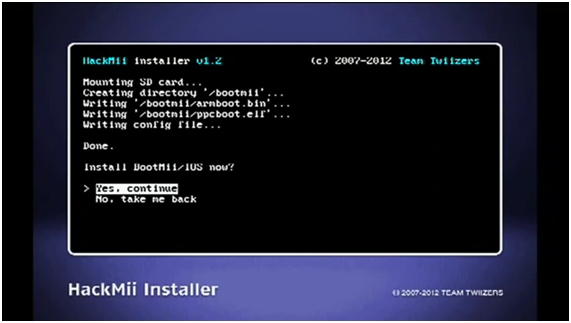 -infine andate su "exit" e vi ritroverete all'HBC.
-caricate l'app " Wiimod"
-muovetevi con la pulsantiera + e cliccate su Wad manager con A (in questa applicazione per tornare indietro si preme B)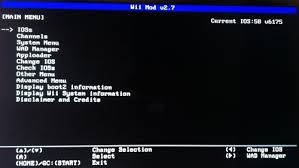 -selezionate "Wii sd slot"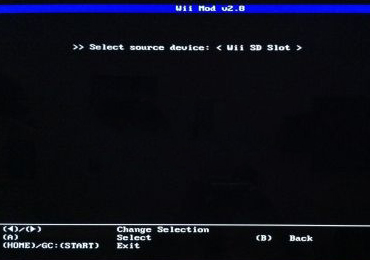 -premete il pulsante 1 e vi chiederà di procedere con l'installazione di tutti i wad nella cartella "wad", dopo aver finito, premete A per tornare al wad manager e poi premete B per tornare al menù, farà una scansione degli Ios e poi vi porterà dentro al BootMii, premete il pulsante di accensione della Wii per muovervi a destra sull'icona dell'HBC e premete RESET per selezionare.
-Caricate l'app "Priiloader" 
aspettate che vi venga scritto che potete installare il priiloader, appena viene la scritta, cliccate "+" e installerà il priiloader.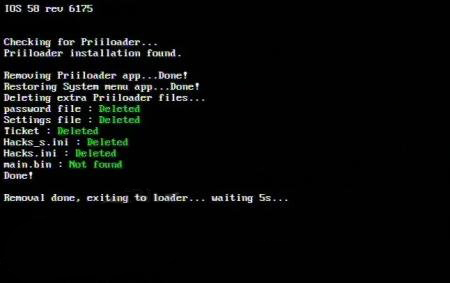 -vi ritroverete all'HBC, tenete premuto il pulsante "reset" per qualche secondo finchè non vi ritroverete nel menù Priiloader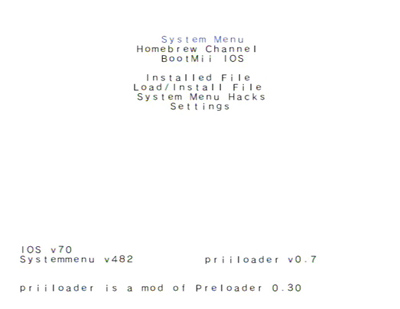 -dirigetevi al menù "system menù hacks", con la pulsantiera di comando + 
abilitate le opzioni (con A):
"block disc update"=non verrà più chiesto di aggiornare la wii dal canale disco.
"block online update"=bloccherà gli aggiornamenti.
"re-enabled bannerbomb v2"=questo riabiliterà il bannerbomb così potrete riusare nonostante abbiate la 4.3; (non è necessario per il compimento della modifica ma se in futuro non riuscireste ad utilizzare altri exploit, col bannerbomb riuscireste ad utilizzare di nuovo gli Exploit.
-premete su "save settings". appena viene scritto "settings saved", premete il tasto (B) e selezionate "System Menu" per ritornare al menu classico della Wii.
abbiamo finito

; vi ricordo che una volta modificata, non dovrete più aggiornare la wii, perchè l'aggiornamento, trovando i sistemi che abbiamo installato, li rimuoverà provocando il brick immediato o parziale della wii...


in ogni caso se avete dubbi su qualcosa scrivete pure ^_^


  buon divertimento

Last edited by TasTas on Mon Sep 19, 2016 4:58 pm; edited 20 times in total (Reason for editing : aggiunto video)